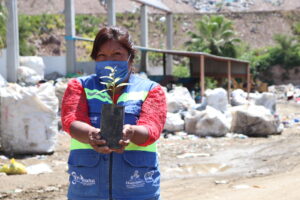 Florencia López, or Flor as she prefers to be called, is a young working woman, mother of one and President of the Recyclers Association in Huajuapan de León, in the state of Oaxaca, Mexico. Flor is 32 years old and has been working at the Integral Center for the Treatment of Solid Residues (CITRESO), the municipal solid waste management facility, for the past eight years. 
The local recyclers association "CIEM Arcobaleno" is an independent organization constituted by 56 informal recyclers, 28 women and 28 men, working to promote recognition, dignification, and environmental education and inclusion as part of the "Inclusive Recycling" project implemented by the Mexican nonprofit organization SiKanda, with support fromTerra Tech and funded by the BMZ. 
March brings a double opportunity to acknowledge Women and Informal Recyclers, both through their triumphs and their challenges, due to the commemoration of the World Day of Recyclers (March 1rst) and International Women's Day (March 8th). This year, a particularly difficult challenge has been working in the context of COVID-19, testing the resilience of women recyclers. 
Tell us, where are you from?
Originally I was born in San Antonino Monteverde, about 2 hours from Huajuapan. My family moved back here when I was two months old, looking for work opportunities as they were not making enough in agriculture. Once here, my father started working in construction and my mother stayed at home.
What's life like in Huajuapan?
It used to be a quiet place,we used to be able to walk at night alone without fear, but things have changed lately. Insecurity is an everyday issue in detriment of people and as the city and the population grew, also cars have proliferated causing more accidents. 
When you first came to Huajuapan, what did you think about the people who live here?
Well, my great grandmother was from Huajuapan and as I was a baby when my family moved back, I am a local now.
Tell me about your job, How did you start working here?
I have worked at the CITRESO (Integral Center for the Treatment of Solid Residues) for eight years. Back in those days I was looking for a job and a friend invited me to join the recyclers team. She said "give it a try, if you don't like it, you can always leave". I remember the date, it was October 30th.
When I started, there were only twelve of us. Whatever we could pick and gather would be sold and divided among us. At the time, Engineer Susana (who works for the local government) managed everything, she negotiated prices and sales, and paid our earnings.
Initially, we would pick the residues for five days in a row and on the sixth we would separate according to types and materials. Along came more people to work and we modified the method, we would pick and separate from the beginning and realized it was better. 
When our association hit 56 members, we were too many and decided to group in 4 teams, one for each (conveyor) belt. We would split the teams in two work shifts: first and second. Engineer Susana was still the administrator.
Then SiKanda came, they provided training on administrative issues and we started taking more responsibilities, we learned about weights, prices and gradually the association undertook the management. We appointed an administrator to be in charge of the business and to keep us well informed.
But a new challenge appeared, being 56 recyclers working, residues waned and were insufficient so we decided to work only 2-3 days a week.
WHow did you become the association President? What does it mean to you?
Four years ago we realized we wanted to grow as recyclers and created the association CIEM arcobaleno.
As a President, I direct the Committee, I plan strategies and try to come with ideas to develop the association. One of them is a new route of inclusive recycling, deployed in the city of Huajuapan, to collect the recyclables that were not arriving to CITRESO due to COVID-19. We are making a good amount of these materials directly in the city. We are also covering three more municipalities with small waste areas. We go and pick the recyclables once a week so we have reached a five day work week. 
Actually, one of these municipalities used to burn the garbage, because they didn't know about recycling, but after our weekly visit, the residues have reduced to the minimum.
What did you think about this job before you started working here?
I knew almost nothing about it, only that aluminum could be recycled, but after a while I learned about other recyclable materials, such as PET, paper and organics. Back in the days recycling was not popular at all, nobody would separate, nobody thought residues could be turned into money, they were only disposable garbage.
What do you like most about the job?
Talking to people about recycling and other things. I am determined to communicate that we are not only what people think we are, working with garbage, that our work is important to the city even if people are not aware that behind their waste disposal there are 56 people doing our part for the community and the environment.
hat's the work environment like?
Right now we are split in groups, but even so we try to be supportive and solidaire with each other. In my group there are many single mothers and elders, as none of us has a secure income, in case of accident or another eventuality, we cooperate to help. 
What do you like the least about your job?
Working under the sun is very exhausting, we usually stay from 7 AM through 1 or 2 PM.
What equipment do you need?
Besides the boots and uniforms, we use a facemask and gloves that we find among the residues and if they are in good conditions, we reuse them.
At what time do you get out?
We stop by 2:30 PM, we usually need one more hour to carry back the materials, and after a 30 minute ride, I get home at 4:00 PM. Back at home I help my kid to do the homework we get from WhatsApp as he is doing home school due to COVID-19. By 6 PM I'm having dinner.
Who takes care after your son? 
My mother takes care of him until I get home. My parents are mostly supportive, they share my idea that we are doing something positive for the community, but there's a downside, which is that taking part in the committee means spending more time in job duties, spending less time with my son.  
Do you tell him about your job? About recycling?
Yes, actually thinking about our children, some of them were being bullied because of our work with residues, we started programming visits to the facility and invited schools to show recycling to the kids. 
So in your family life, you also implement the activities you do at work?
Yes, all my family separates now, the gathered materials mean an extra income for us. We also use the organics to compost and fertilize our plants.
What are the downsides of being a recycler?
Besides the hard work under the sun, the people looks, the aversion and disregard towards us. We were looked down and said to be smelly just for our job, some will cover mouth and nose. Even now in the city route,  some people have been rude, a few though, would not give us their residues and declare they prefer to send them to the garbage than give it to us. 
What are the satisfactions of being a recycler?
First is contributing to the environment. As a woman, I am also proud of my new career. I am a beauty technician, so before CITRESO I used to work in a beauty salon. People asked me why I changed one workplace for working with garbage, but so far this job has given me everything and I'm very satisfied with it. 
What are the most important challenges as a woman recycler?
It is very physical work, even our male co-workers have pointed it out. We carry big bags full of recyclable materials every day and we must even our strength to cope with glass, compost, and every other load. We risk injuries. Also, many single moms are the only source of income in their homes but that doesn't mean they get home and can forget being and doing what mothers are expected to do.
What do you learn from your colleagues?
Our will to improve or work condition has always been our strength to move forward. Along the way, our male colleagues have convinced themselves and show more respect for our work on the field and in the administration. The present Committee has 6 members, 4 women and 2 men, and we have been acknowledged for our good management, something many were not happy with, they believed we couldn't do a better job than men, but we have other talents and strengths, we take the matters more peacefully and calmly. We have conquered other things that escaped from the organization in the past. Facts and results are on our side.
Recyclers of waste-pickers?
We call ourselves recyclers. We decided to stop using other names, and to become only recyclers. We are experts, and know everything about the materials, even between the ones that look alike we can see differences.
What could people do to contribute to your work?
Separate their trash and give it to us. If every household learns to separate, we take it from there. 
In our recent city route I have appreciated a change, people learned to separate organics from inorganics, and sometimes we even look together into their bins to show how they can improve.
Something else you'd like to share?
I would like people to acknowledge our work, to know we are not just a group of people working with garbage, but people working in benefit of the environment, to value our job as one of many that contribute to society, to stop discrimination against us.
We would really like to have social security or medical aid because we risk a lot working with garbage: infections, diseases, accidents, cuts, animal bites, syringes. And to procure access to health services for our own family members.